Benefits of Implant Overdentures
Posted by SMILES AHEAD FAMILY DENTISTRY on Dec 1 2021, 10:05 PM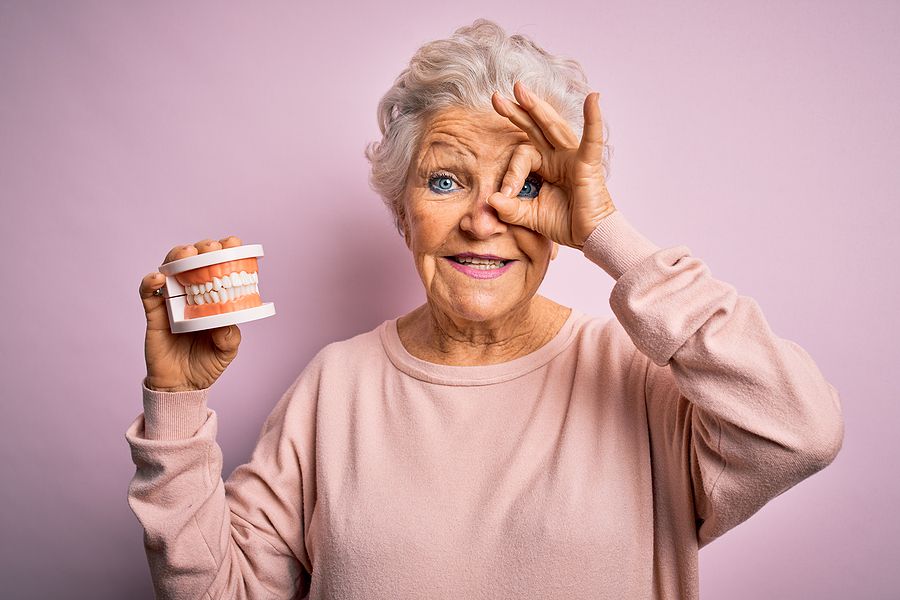 Dental implant-supported dentures are fast becoming one of the most widely used alternatives for full-mouth reconstructions. Although conventional dentures have been in use for decades and have advanced and improved significantly over the years, there are still some drawbacks associated with them. 
At Smiles Ahead Family Dentistry in Columbus, Ohio, we recommend Implant-supported dentures or implant overdentures as they reduce many of the problems associated with traditional dentures.
What Are Dental Implant Overdentures? 
A dental implant comprises a prosthetic root and tooth system. It resembles a natural tooth and functions just like it. The titanium implant post is surgically drilled into the jawbone, and a crown restoration is secured on its surface. 
In implant-supported dentures, the dental crown is replaced with a complete arch denture. Typically, between 2 and 6 dental implants are placed in the jawbone to hold one entire denture arch.
Benefits of Implant Overdentures 
Choosing an implant overdenture comes with several benefits, including: 
They Stay Firmly in Position
The dental implants provide the denture with additional support to remain firmly in position. This way, the denture does not shift, slip, or risk irritating your gums. 
They Prevent Bone Loss
Your jawbone weakens when your natural teeth are missing. This process continues over the years until you replace the missing teeth with a permanent solution. Implant overdentures reinforce and strengthen the jawbone as the implants fuse and form a permanent bond with it.
They Don't Require Messy Adhesives
There are no messy adhesives involved in implant overdentures, as is the case with traditional dentures. The dentures rest securely over the dental implants eliminating the need for adhesives.
You Can Eat Your Favorite Foods
Traditional dentures may restrict your diet and make it challenging to bite and chew certain foods. Foods that contain seeds may get stuck under the dentures, and solid foods may be painful to chew or have to be avoided as they can cause damage to the dentures. With implant overdentures, you get three times the biting force. This means you get to eat whatever you like. 
With implant overdentures, you can brush your teeth as you would your natural teeth. There are no extra requirements involved in maintaining them.

To find out more about the benefits of implant overdentures, do not hesitate to contact Smiles Ahead Family Dentistry in Columbus, Ohio, by calling (614) 818-9420. You can also visit our office at 2456 Home Acre Dr, Columbus, OH 43231.